Our School Environment
River Mead School provides a welcoming learning environment, with a hall, library, and specialist teaching areas. All teaching spaces are equipped with interactive whiteboards and we have laptops to be used in classrooms.
The KSI and Early Years classes enjoy access to outdoor play areas all year round.
River Mead School offers a music studio and a kitchen. We are lucky to have a number of rooms which we use for a variety of teaching and learning opportunities including peripatetic music teaching.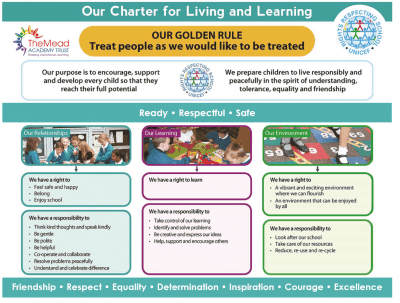 Resource Base Classes
River Mead School also provides specialist Resource Base provision for up to twenty pupils with complex learning needs. It is important for us to work in close partnership with parents and carers to develop individualised programmes of support to promote learning, confidence and independence skills for all of our pupils. Currently based in two classes (Ducks and Ducklings) catering for pupils with a variety of needs and ages, the Resource Base is an integral part of River Mead and supports inclusion for all within the wider school community.
Resource Base places are available to pupils with Statements of Special Educational Needs and allocated by the Wiltshire Council SEND Panel at County Hall.
Outdoor Learning
We are committed to outdoor learning and are developing the school grounds to include areas for story telling, forest schools, wildlife areas, trim (agility) trail and flower and vegetable gardens. The 'Welly Wednesday' club are helping to make our grounds look colourful and well maintained.
Getting to School
To support children who cycle, scoot or walk to school there is a bike and scooter rack. We do require that children dismount before entering the school grounds.
We recognise that some families live a significant distance from school, or need to drop off on the way to work. We ask that you consider car-sharing or plan to 'ride and stride' from a distance away. We want to provide a safe drop off point for the children and ask that you park within designated spaces and are respectful of other drivers.
Please DO NOT EVER obstruct the school gates as it is imperative that emergency vehicles can access the site at all times.