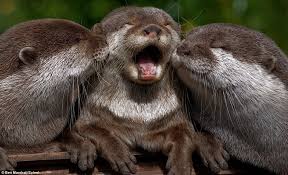 At River Mead School we take our democratic responsibilities very seriously – even from the age of 2!
We are delighted to announce that following the election on Thursday 8th June 2017 the new name for the River Mead Nursery will be 'Otters'. The turn out for the vote was incredible with the majority of children and staff from the school and Little Fir Tree Nursery selecting from the list of 4 possible options.
Otters was chosen with an overwhelming majority whilst Dragonflies was chosen as the second favourite choice. Staff from Little Firs Tree Nursery said that the children really enjoyed coming over to the school hall . They followed the signs to the 'Polling Station' and carefully posted their papers marked with a X in the ballot box. Mrs Henderson, Head of School, said that she was delighted with the choice:
"Otters are playful animals and appear to engage in various behaviours for sheer enjoyment. This is very appropriate for our nursery where we provide children with opportunities to play, explore, be active, be creative in an enabling environment that offers a range of multi-sensory resources both indoors and outdoors (including water!)"
Mrs Henderson added that "This is a very exciting time for Otters to be joining the River Mead family. We have had two very recent confirmations of the huge improvements made at the school. The Deputy Regional Schools Commissioner when he visited in April praised the practice in Year One and Early years as 'exceptional'. A representative for the Wiltshire Local Authority this week said 'it is like walking into a new school' and she noted that the children were calm, focused and talking with excitement about their learning. She interviewed the children to gauge their opinions on issues such as bullying, behaviour and safety and commented that her favourite quotation came from Chloe in Year 5 who confirmed that she loved coming to school, felt very safe and added 'everyone has a voice , everyone is heard at at River Mead School.'"
Otters will officially become part of River Mead School from September 2017 when the YMCA will cease to manage Little Fir Trees Nursery. For more information and visits to the school please contact the office on 01225 703428.